Need a gift for your favorite plant lover? These plant gifts are perfect for every spring occasion. Whether you're gifting for a birthday, baby shower, or just because – here's a hit-list of 10 perfect plant gifts:
It's a plant…in a bag! This plant gift might sound a little quirky but that's exactly why it's such a cool option. These bags come packaged with seeds and growing mix. All your plant-loving friend has to do is place them near the sun and watch them grow. Once they're big enough, they can be easily transported to an outdoor garden or another part of the home.
Not every plant lover wants to deal with the hassle of growing plants – that's where plant gifts like our Ecocube comes in. Packaged in a wood planter, this cube comes already filled with organic seeds and soil. All your loved one has to do is place this cube in a well lit spot, water it a little each day and then watch this cube transform into a mini garden.
Looking for plant gifts that double as home decor? Then checkout this Round Wall Planter. This decorative piece turns plants into living wall art. And it's available in several different sizes and colors. Your friend can use this vertical planter to create a modern, eye-catching wallscape that'll bring life and light to their home.
Plant gifts that are boxed and ready to go are the best type of plant gifts. Our Eggling comes in a fun package and is fully equipped to grow stunning plants in no time. Inside you'll find a ready-to-grow seeds that just need water and some spring sunshine to flourish. This sweet plant gift offers three different seed options; strawberry, lavender, or sunflower. Buy one or collect them all!
Are you searching for plant gifts isn't that will excite plant-lovers and aquarium-lovers? Then check out this Marimo Angel Aquarium Set of 2. Each terrarium comes with colorful gravel and a makeshift tree branch. To create a gorgeous water moment, till the angel aquarium up with tap water.
Cacti are super low maintenance which makes them one of the perfect plant gifts to give to people who don't have a green thumb. Our 2-Pack Cactus Plant comes with two unique cacti that will add life to any home and gently ease your friend into the plant life. Imagine how great a few of these plants will look on an outdoor patio or next to the kitchen sink. Gorgeous!

Is your plant-lover also an animal-lover? Then our Animal Shippon is the ideal plant gift. This small plastic cup comes with planting soil, seeds, and something a little unique…a self-watering animal!. Choose between a dog, monkey, or cat, to hang on the edge of the plastic cup and keep all of your plant gifts hydrated.
Obsessed with mason jars? Our Self-Watering Mason Jar Planter will have you even more obsessed because these ones water themselves. Plant gifts that water themselves are the best plant gifts for people who tend to forget things. All you gotta do is place this Self-Watering planter in a sunny spot and in no time, you'll see tomatoes sprouting up from this trendy jar.
If you're shopping for a self-proclaimed plant lady, they probably have enough plants. Instead of giving them plant gifts that have actual plants, surprise them with a cute planter! These Animal Planters are cute, tiny and have the right amount of personality. They're the ideal planters for succulents that require little watering, and they'll instantly add some character to any room.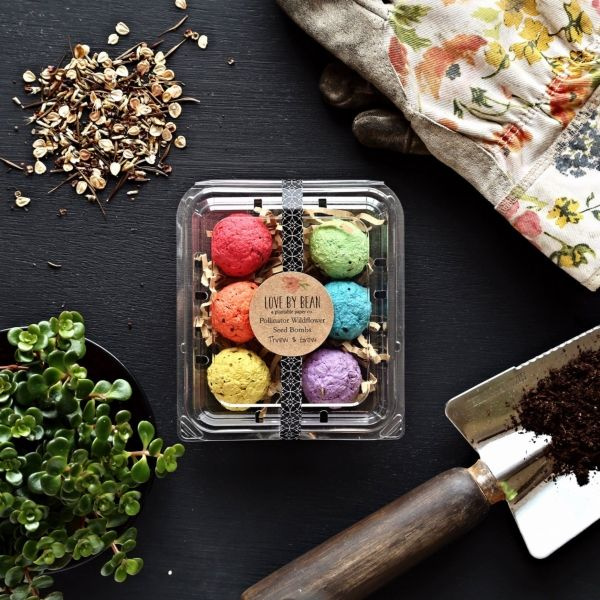 Out of all the plant gifts on our list, this is one of our favorites. Colorful, organic and eco-friendly, these Rainbow Wildflower Seed Bombs are the most unique plant gifts.  Each seed bomb carries a blend of seeds that will attract all the lovely pollinators. The seeds are protected by the paper and only need to be placed on top of soil. As the seeds germinate, the paper will naturally biodegrade as the roots grow down into the soil and turn into gorgeous plants.
At Apollo Box, we believe that unique gifts = unique living. We want to help you discover, collect, and share the world's most creative gifts. We search all over the globe for small vendors with big ideas and one-of-a-kind products, and partner with them to bring you the most unique home décor gifts, DIY gifts, jewelry, gadgets and more. Whether you're searching for gifts for mom, gifts for dad, or a gift for your BFF, we've got it all. So take a step out of the ordinary, create the extraordinary and give unique gifts.