Halloween is almost here and people everywhere will be donning creative Halloween costumes, spooky Halloween decorations and fun Halloween accessories. If you're not really feeling Halloween this year but still want to do something festive, throw a Day of the Dead Party and use one of these Dia De Los Muertos party ideas.
Dia De Los Muertos is a Mexican holiday that celebrates and honors the dead.  The holiday technically starts on October 31, when people start to prepare alters to the dead, and the official holiday is celebrated on November 2nd.
If you choose to throw a Dia De Los Muertos Party instead of a Halloween Bash, please honor this sacred holiday, know what it is celebrating and don't appropriate this beautiful culture. Create an opportunity to educate your friends and family about Mexican heritage and culture.
Read on to see a list of Dia De Los Muertos party ideas and throw a fun and colorful party!
Dia De Los Muertos Party Ideas for Your Home
These Dia De Los Muertos Party ideas are some of the most beautiful and fun decorations to own.  Include one or all of these decorations at your party to have a home that is ready to celebrate death and the gift of life.
Follow this tutorial by Tinker Lab to make and hang vivid paper flowers all over your home. Tinker Lab uses yellow paper to make recreate Marigolds, which is the flower that guides the spirits to their altars.  Create Marigolds and buy other color paper for a vibrant and colorful home.
Strike the perfect balance of life and death at your Dia De Los Muertos Party and fill your home with little succulents planted in skull planters. This planter is small and a great skull accessory that you can use all year.
/These Skeleton Figurines know how to have a good time and will encourage your guests to let loose and celebrate.  Whether you prefer the Dancing Skeleton Couple or the lone Skeleton Musician, either one of these skeleton figurines will bring the right energy to your fiesta.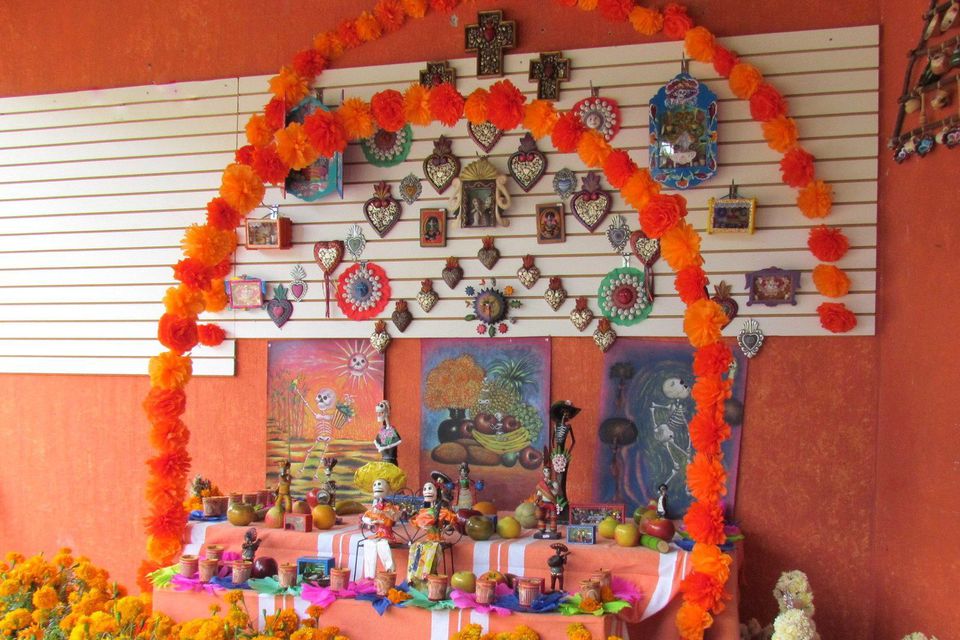 Out of all the Dia De Los Muertos party ideas, this is an idea that you cannot skip. A Dia De Los Muertos Altar is a huge way of showing your honor people who are important to you and have already passed to the other side. Click here for Trip Savvy's altar tutorial.
Dia De Los Muertos Party Ideas for Your Guests
Spark interest and enthusiasm with your guests and give them a reason to want to learn more about this special holiday with fun party favors, tasty treats and drinks. All of these Dia De Los Muertos party ideas for your guests will make your party the party of the year.
These beautiful DIY flower headbands will be a hit with all of the senoritas. The flower crown is an essential piece of any Dia De Los Muertos outfit.  Follow Lost Found Keep's easy DIY flower crown tutorial and hear all of the girls oooh and ahh.
Take a break from Margaritas and serve Paloma at your Dia De Los Muertos Party.  This refreshing drink is a mixture of tequila, lime, grapefruit juice and more. Follow The Drink King's recipe for a tasty cocktail.
Serve these tasty and colorful Day of the Dead (aka Dia De Los Muertos) sugar cookies to fill people's sweet tooth.  Use this Sweet Spirit Cookie Cutter to easily form your cookies into Day of the Dead Skulls.  Follow this Allrecipe sugar cookie recipe. This recipe is easy to follow and any person from any baking level can make yummy cookies.
If you feel comfortable in the kitchen and like to decorate, then this is the Dia De Los Muertos party idea for you. These Mexican Sugar Skulls are intricate, beautiful and a Dia De Los Muertos tradition.  In Mexico people will use Sugar Skulls to decorate the graves of their loved ones. Follow this Mexican Sugar Skull Recipe by Sugar and Charm and pass these skulls out to the people you value.
Sign up below for our newsletter for more festive party ideas!
At Apollo Box we're passionate about fun and unique gifts. Our innovative AR shopping platform takes shopping to a whole new level of fun. Find cool gadgets and handmade creations to share with your friends. Sign up for our newsletter and stay informed about latest creative products and innovative technology.