Your bathroom is small, but it's a room in your home that you visit on the daily. If you're tired of walking into a drab, boring powder room, use these 8 small bathroom decor ideas to subtly transform your bathroom this Spring.
Small Bathroom Decor Ideas:
Idea #1: Choose a Bold Shower Curtain
Two pros of small bathroom decor ideas is that 1) They don't break the bank and 2) They are quick solutions. Case and point:  To update your bathroom, just switch up your shower curtain! Go ahead and replace that curtain you've had for years with a bold shower curtain like this Nordic Style Shower Curtain. You'll love the outdoorsy feel this shower curtain brings and how quickly it changes your bathroom.
Decor Idea #2: Add Some Hanging Greenery
Looking for small bathroom decor ideas that will add a little more life into the room? Instead of hanging up paintings or painting the walls your favorite color, keep your bathroom decor, add a few plants . This Round Wall Planter adds just the right amount of color, personality and style. It's the perfect planter for succulents and plants that don't need a lot of watering or light which means it's the perfect way to keep plants in bathroom doesn't get enough natural light. Still not sold? See the 4 reasons why you need these unique wall planters. 
Decor Idea #3: Throw Down an Eye-Catching Bath Mat
Who knew that small bathroom decor ideas could be as simple as investing in a fun bathroom mat? Similar to the shower curtain, switching out your old mat for a newer, bolder mat can quickly upgrade your bathroom game. Think of your bathroom mat as a tool that accents the room. Similar to how you'd paint one wall to change your living room mood, your bathroom mat can be used to alter the vibe of your bathroom. Use a mat that has a bunch of character like this Cartoon Critters Floor Mat.
Decor Idea #4: Add  a Unique Towel Rack
Let's be honest, your home is too trendy to have a basic bathroom. Which is why you should go through and remove everything that's not unique. Do you and your friend have the same exact towels? Umm…no thank you. Replace those! What about your towel rack? Is it the same, silver bar everyone else has? Bye bye. Use towel racks that are one of a kind, like this Snowy Mountain Peak Wall Peg.
Decor Idea #5: Store Your Towels in a Basket
By now we're pretty sure you've caught onto our small bathroom decor ideas trend. To update a bathroom, just add in one new but character-filled and useful product. Exhibit A: Use a basket to store your towels. This storage method is efficient, saves space and still adds some personality.  Want something more original than a wicker basket? Then check out these unique Star Storage Baskets.
Decor Idea #6: Make Use of Your Corner Space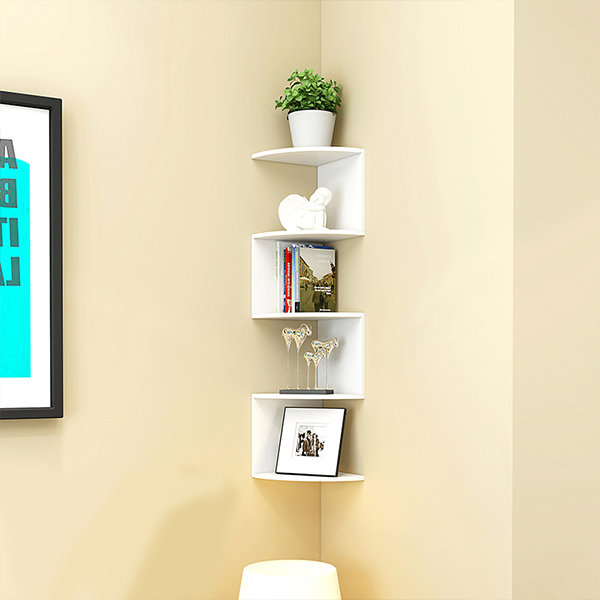 Does your bathroom look a little cluttered? Then look for small bathroom decor ideas that will enhance your space capacity. This Corner Shelf is a unique shelf that can hold planters, picture frames, toiletries or whatever else you'd like. Filling your bathroom corner with art and decor is an innovative design trend that every guest will notice.
Decor Ideas #7: Designate a Gallery Wall
We've talked about 6 different types of small bathroom decor ideas and by now you're probably thinking, "what about just hanging photos and prints?".  Well you're totally right! But let's take that idea one step further. Why just hang one or two photos on your wall when you can transform one whole wall into a gallery wall? Now that, is art. Use different sized frames and mix real-life photos and prints to add variety and interest. These Technical Illustration Art Prints are cool, simple prints to use because they'll seamlessly blend in with with all other prints and photos.
Decor Idea #8: Invest in Snazzy Lighting
Do you want to add some class and sophistication to your bathroom without changing everything? New lighting is the answer! Introducing one or maybe two snazzy lighting fixtures can improve your bathroom and the overall mood. Plus, you can easily find lighting that will compliment the bathroom decor you already have. Whether you want to intensify the colors in your bathroom or make sure the toilet isn't the main focal point, a simple ceiling light can do that. This 3D Printed Moon Pendant Light is the perfect example of an eye-pleasing light that'll elevate your bathroom decor.
Want to see more unique home decor? Visit our Home Decor Collection!
At Apollo Box, we believe that unique gifts = unique living. We want to help you discover, collect, and share the world's most creative gifts. We search all over the globe for small vendors with big ideas and one-of-a-kind products, and partner with them to bring you the most unique home décor gifts, DIY gifts, jewelry, gadgets and more. Whether you're searching for gifts for mom, gifts for dad, or a gift for your BFF, we've got it all. So take a step out of the ordinary, create the extraordinary and give unique gifts.