We're two weeks away from Easter and you know what that means: Easter egg decorating! If you're looking for creative Easter Egg decorating ideas, then look no further!
We rounded up 9 different tutorials that put a unique twist on a timeless Easter tradition. Scroll down to see which Easter egg decorating idea fits your taste and style.
Floral Creative Easter Egg Decorating Ideas
Put a modern spin on Easter egg decorating and instead of dipping them in dye give them cute floral tattoos. This decorating route is super easy, affordable and doesn't take a lot of prep or clean up time.
All you need is temporary tattoo paper, an inkjet printer, white hard boiled eggs, a wet rag, scissors and a A Beautiful Mess' downloadable Easter tattoos.
Click here for the whole tutorial by A Beautiful Mess.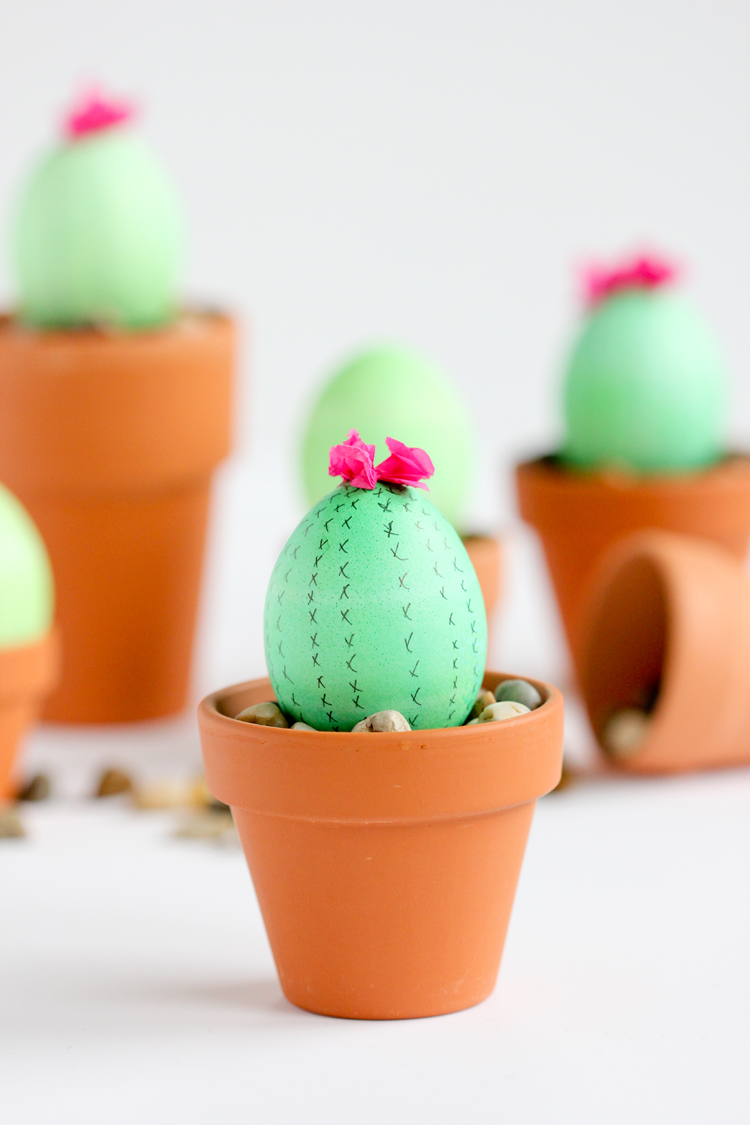 If you want to get into the Easter spirit but stand out from the crowd, skip the expected creative Easter egg decorating ideas and make Cactus Easter Eggs. This design is a clever but not so obvious Easter egg decor idea.
The supplies you'll need are hard boiled eggs, green egg dye, a fine tip black marker, small terracotta pots, decorative gravel, glue and pink or yellow tissue paper. Once Easter passes you can reuse the pots and gravel for real succulents!
Click here for the whole tutorial by Delia Creates.
This is the Easter egg decorating idea for florists and flower lovers. Take your egg decorating one step further this year and create this beautiful and easy-to-make floral masterpiece.
The tools you'll need are empty egg shells, a knife, water, flowers and scissors. This dainty and stunning centerpiece will impress all your guests. It's also a thoughtful and stunning hostess gift.
Click here for the whole tutorial by Merrythought.
Cute Creative Easter Egg Ideas
If you or someone in your home can't stand the thought, look or smell of hard boiled eggs, than this is the Easter egg decorating idea for you. Substitute cardboard eggs instead of real eggs and make these adorable doily Easter eggs.
What's nice about this decoration is that you can re-use it for all the future Easters! The tools you'll need are craft paper mache eggs, paper doilies, scissors, Mod Podge Matte, and a paper grocery bag.
Click here for the whole tutorial by The Little Red Window.
Create Easter eggs that look like they belong in a Brit.Co photo shoot and make these colorful sprinkle Easter eggs. This decorating idea is quick and easy to do, and the final product is adorable!
All you'll need are pastel nonpareil sprinkles, hard boiled eggs, tacky glue, a spoon and a paintbrush. For a photo perfect look, tenderly place these sprinkled babies in pastel egg shaped dishes like our Colorful Custard Bowls.
Click here for the whole tutorial by Studio DIY.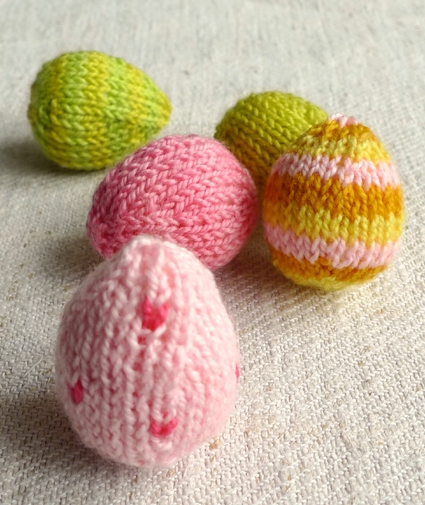 Nothing is cuter than a well executed cozie. This is another fun egg decorating alternative if you aren't about that hard boiled egg life.
Bust out your knitting needles, bright colored yarn and knit these charming Easter egg cozies. The materials you'll need are fingering weight yarn, as set of US #3 double pointed needles and stuffing.
Click here for the whole tutorial by Purl Soho.
Crafty & Creative Easter Egg Ideas
If you want to make an easy table decoration that incorporates egg shells, whip out your golden marker. These makeshift egg placement cards are simple and elegant, a winning combo in our book.
For this Easter craft you'll need a hard boiled egg and any colored fine point Sharpie. Silver and gold give a nice touch.
Click here for the whole tutorial by JSH.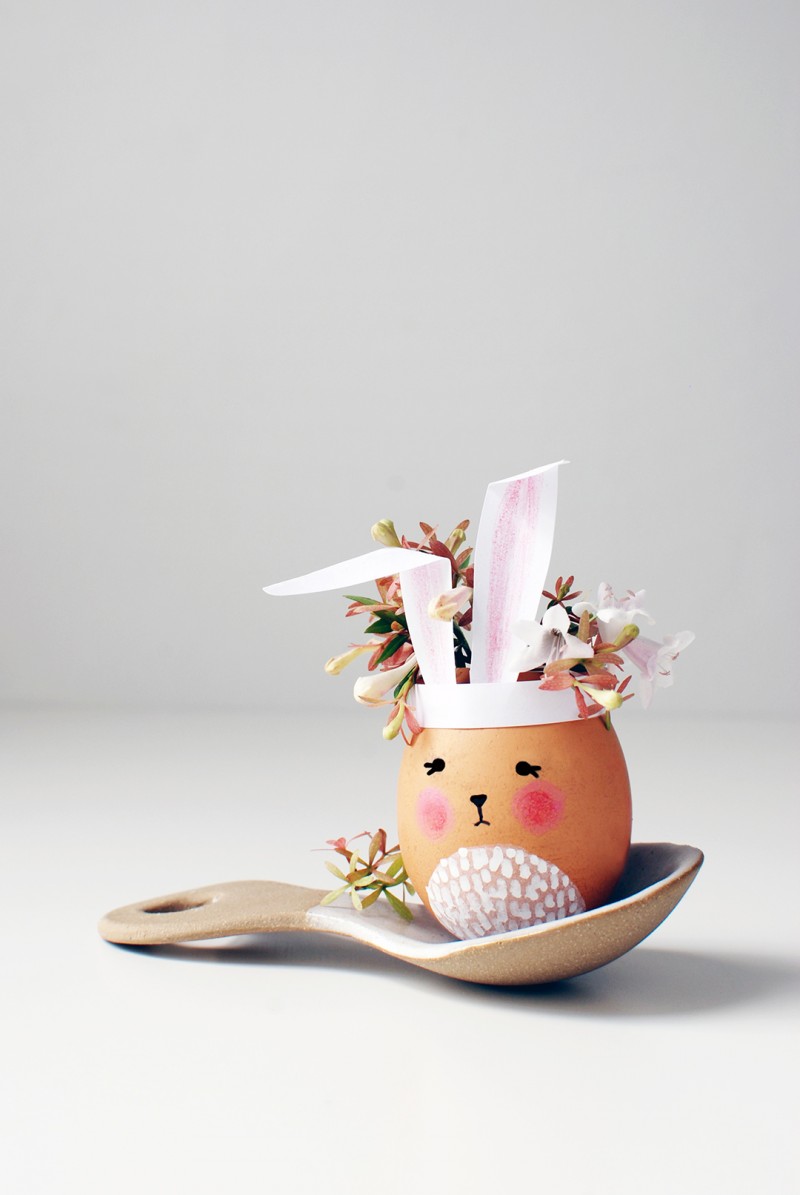 Combing your love for the Easter bunny and eggshell crafts and make these precious Easter Bunny Mini Eggshell Vases. Seriously nothing is cuter than these little fellows. They're the finishing touch to your Easter home decor.
The tools you'll need to make these little bunnies are empty egg shells, a black marker, white paint pen, pink and red coloured pencils, Washi tape, white office paper and flowers and leaves.  Be the hostess with the mostess and delight your guests with these friendly bunnies.
Click here for the whole tutorial by We Are Scout.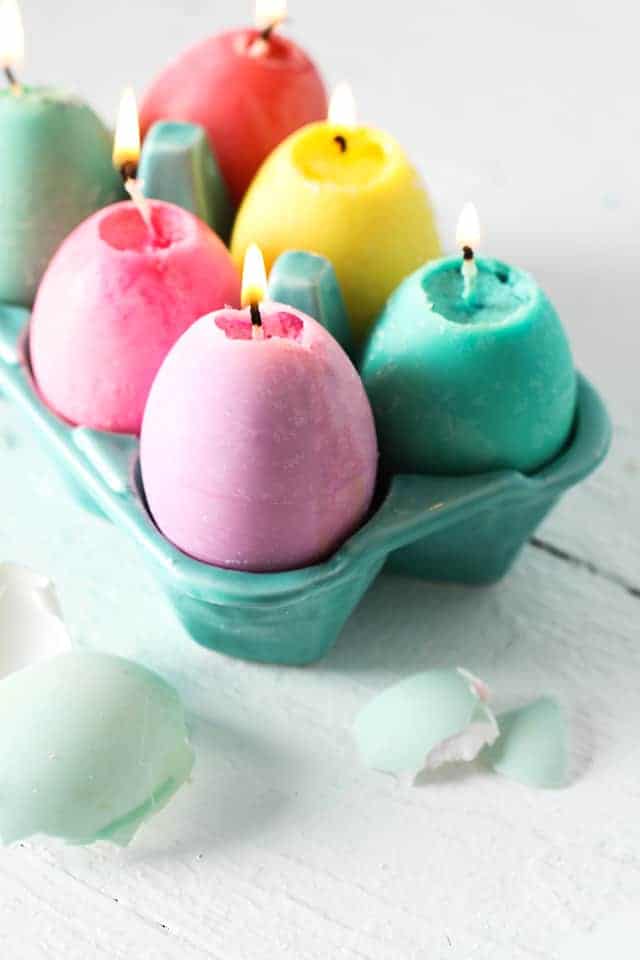 Last but not least are these Easter Egg Candles. This is another resourceful Easter craft which results in a decoration that you can use after Easter.
To make these cool Easter Egg Candles, gather blown out egg shells, soy wax flakes, 5 inch candle wicks, wax paper, Dixie cups, Crayons and essential oils. The outcome? Colorful and aromatic candles!
Click here for the whole tutorial by HelloGlow.
This unique Easter egg idea is like nothing you've seen before. Created to showcase vivid color, you'll love the final result.
All you need are eggs, Crayola crayons, paper towels (lots of them), and a cheese grater. Once the eggs are cooked, simply place them on a paper towel and gently sprinkle crayon shavings over them. The shavings will melt themselves onto the eggs and create an awesome illusion.
Click here for the whole tutorial by There's Just One Mommy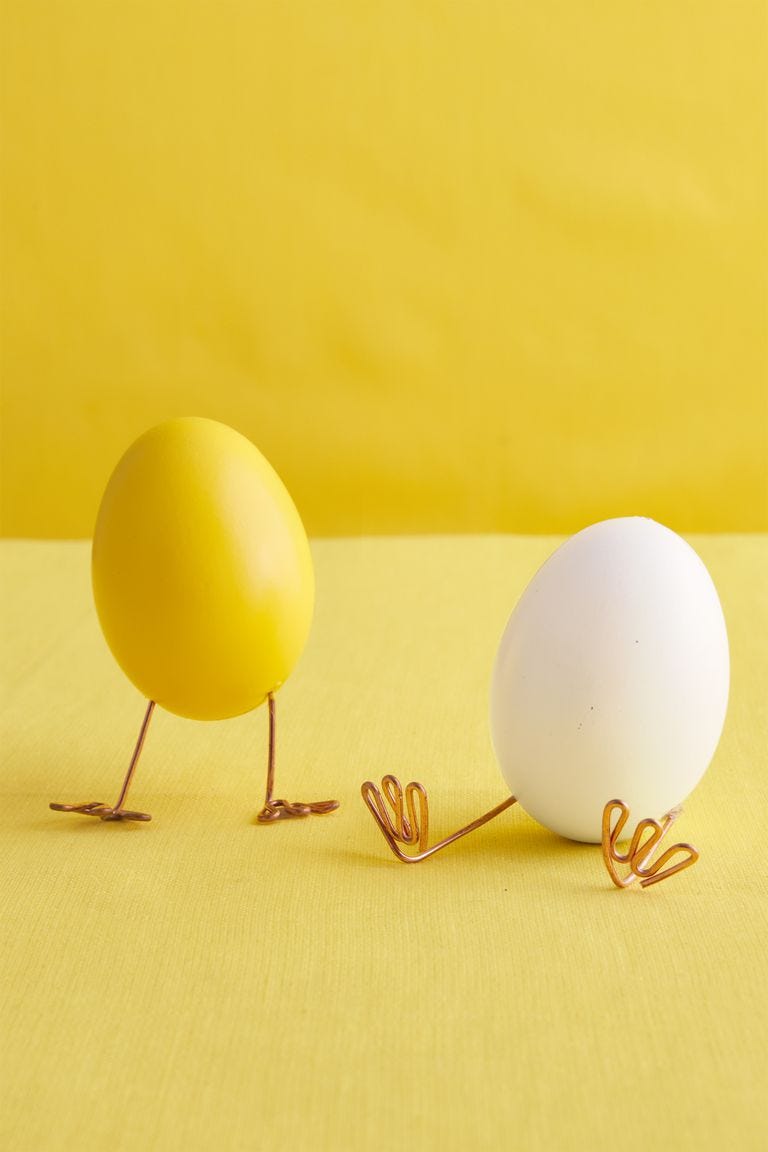 Have you ever wanted to see an egg hatch? Well now you can with this Hatching Egg tutorial. The best part? You don't even need a real egg, a large plastic one will suffice.
First, lightly sand and paper a large plastic egg. Then, use pliers to bend the aluminum into chicken feet. Poke two small holes into the egg, insert the feet into these holes, and let the hatching egg dry.
Click here for the whole tutorial by Woman's Day
Do your kids love the Ninja Turtles? All you need to bring those turtles to life is a green dye, food coloring, room temperature water, ribbon, eyes, and glue.
Once you have the supplies, simply dye the eggs in room temperature water. Then, glue the ribbon to the back of the eggs and add eyes. That's it!
Click here for the whole tutorial by A Pumpkin & A Princess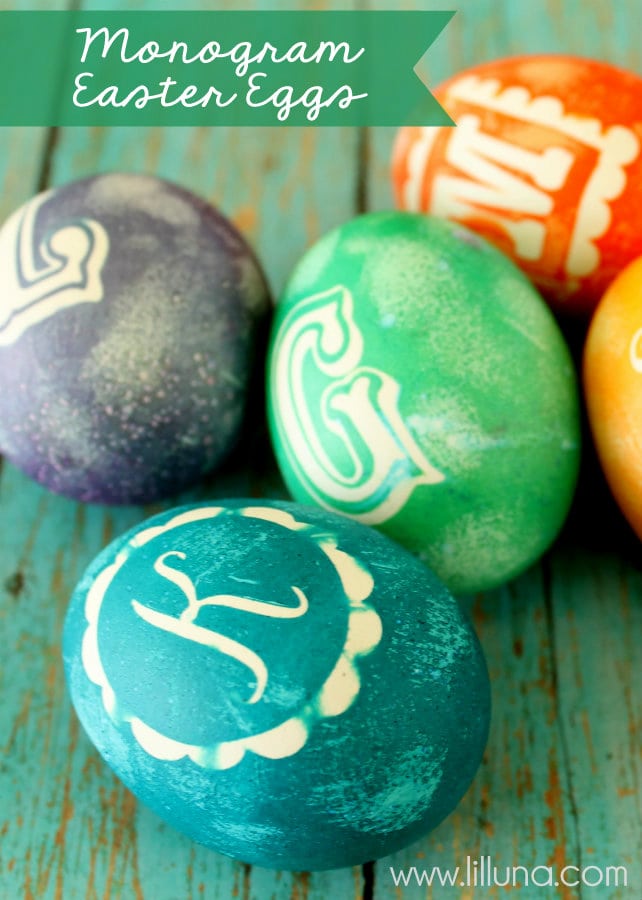 Are you throwing a party this Easter? These Monogram Easter Eggs will provide the perfect touch to your Easter surprise.
All you have to do is add the initial (or initials, depending on the size of your eggs) of your guests on each egg. Then choose where you want to place them. Or, give them away as party favors. The choice is yours!
Click here for the whole tutorial by Lil Luna

What's nice about this easter egg idea is how creative it is! How often do you see an egg dressed like a queen? Never!
Here are the tools you'll need: White hard-boiled egg, scissors, craft paper, black plastic bottle cap, blue colored pencil, fine-tipped black marker, tiny sticker heart or paper heart, and a fine-tipped black marker.
Once you have everything, simply glue the Queen's decorations onto this egg and then use the marker to draw in the details. While there are several more detailed steps to creating this egg, the entire process should take an hour tops. 
Click here for the whole tutorial by Disney Family
Easter eggs that glow?! This decorating idea uses neon colors to create out of this world eggs.
You'll need fluorescent paint, white vinegar, hot water, cups, bowls, spoons, paper towels, and a black light. This must-try activity has quite a few steps, but it'll all be worth it. Who wouldn't want to create glow and the dark Easter eggs?
Click here for the whole tutorial by Growing a Jeweled Rose
Easter egg decorations can be so much more than DIY projects. This Adorable Easter Egg idea lets you put a message inside your egg, kind of like a "message in a bottle." How's that for a nice touch?
Once you have your message, roll it up as tight as you can, stick the message into the egg (you should've created a small hole), and then place your egg (or eggs) into a little box. Present the gift to your family and friends. They'll love cracking their eggs to see this surprise.
Click here for the whole tutorial by BLDG 25 Blog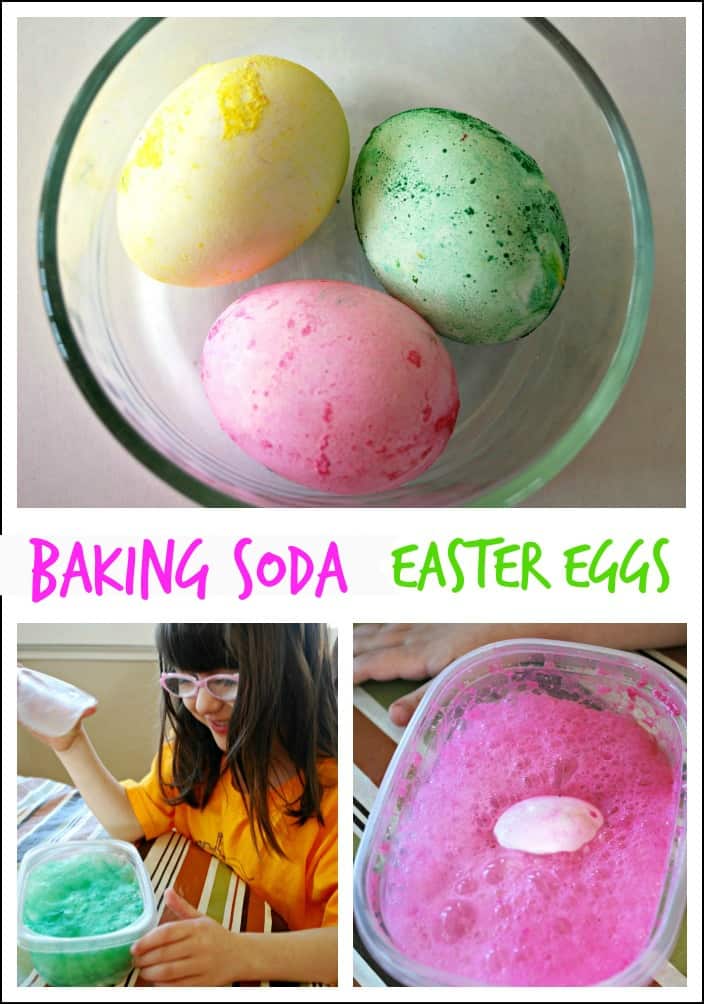 This idea is simple, but fun. Plus, it only calls for a few ingredients: baking soda, vinegar, powdered tempera paint, thongs, containers, and hard-boiled eggs.
Simply pour your choice of powdered tempera paint into a cup of baking soda. Stir. Then, place the egg into the mixed bowel and gently pour vinegar onto the egg. The vinegar will create a fizzy mixture that'll completely cover the egg, and voila – you'll have colorful and decorative eggs in no time.
Click here for the whole tutorial by Mess for Less
Want to find more Easter themed crafts and gifts? Click here to shop our Easter collection and here for DIY Easter goodies.
At Apollo Box we're passionate about fun and unique gifts.  Our top priority is to help you find cool gadgets and handmade creations to share with your friends. Sign up for our newsletter to be in the know about our latest products, exclusive discount codes, sales and more!