The historical day is almost here and space lovers and people who just appreciate cool things are waiting in anticipation!  The 2017 Solar Eclipse will take place this Monday on August 21. This will be the first total eclipse since 1918, and several lucky cities that are in the "path of totality" will get to experience almost complete darkness, as the moon blocks the earth from the sun's light.
If your city is not in the "path of totality, you'll see a partial eclipse. Regardless of which 2017 Solar Eclipse you get to see, this is a cool experience so make the most of it!  Here are  5 things you should do for the ultimate 2017 Solar Eclipse experience.
1. Figure Out Your 2017 Solar Eclipse Time and Location
With all the media coverage about the 2017 Solar Eclipse, you most likely know if your city is in the "the path of totality".  What most people forget to check is the time the eclipse will take place.  After all, timing is everything.
This AccuWeather article gives you the approximate times the 2017 Solar Eclipse will take place across the U.S..  Set your alarm for 5 minutes beforehand so you can rush outside for a look at one of nature's most mystical wonders.
2. Guard Your Eyes
The science behind solar eclipses are no joke and whatever you do, don't look directly at the sun during the eclipse.  Staring at this 2017 Solar Eclipse with the naked eye could result in permanent eye damage.
If you want to catch a look at this bad boy, please remember to have eclipse approved glasses. Click here for a list of safety tips to follow while enjoying the space show.  If you don't have time to snag solar eclipse glasses, this NASA tutorial shows you how to make a DIY pinhole camera.
3. Go to Krispy Kreme
This really doesn't have anything to do with space, but it's a chance to grab a limited edition Krispy Kreme donut and what sane person would pass that up?  In honor of the 2017 Solar Eclipse, Krispy Kreme is creating a chocolate version of their Original Glazed Doughnuts.
What sounds better than eating your chocolate glazed donuts while looking at the solar eclipse? My point exactly.  Click here to find participating Krispy Kreme shops near you.  If you don't have time to grab a doughnut on the 21st, visit a store during evening Hot Light Hours between August 19-20 for your chocolate treat.
4. Take an Instagram Photo
We all want to do it for the gram, but this time around you have to be pretty creative.  Any photo taken without special solar filters won't turn out instagram worthy.  
So settle with a memorable picture of the crowd that you're with underneath the eclipse shadow. Don't aim your camera directly at the eclipse and whatever you do, make sure your flash is turned OFF.
If you're watching the partial solar eclipse, create unique designs on the tin foil of your pinhole camera.  When it's time for the eclipse, project the eclipse design on a wall or white card stock and take a photo.
5. Soak in the Moment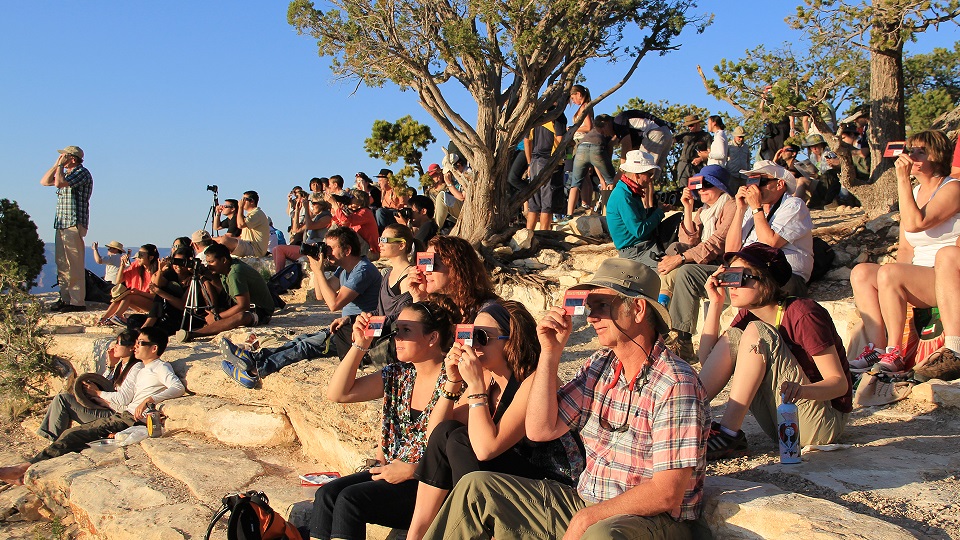 This point kind of contradicts point #4, so if you had to choose between point #4 or point #5, go with #5. Remember, this is the first total solar eclipse in almost 100 years. So if you don't have a chance to grab a Krispy Kreme doughnut or snap the perfect photo, just sit back, relax and enjoy this experience.
For some people this is the only time they will see a total solar eclipse in their lifetime.  During a specific time frame, millions of people across America will be looking up at the sky, taking in this wonderful phenomenon. And that my friend, is a time worth being in the moment.
What are your plans for the 2017 Solar Eclipse? We want to know! Show us in the poll below!
Obsessed with all things outer space?  Sign up for our newsletter so you can catch our September Space Sale!
At Apollo Box, we are passionate about fun and unique gifts. We created an innovative AR shopping platform to make shopping even more fun.  We want you to discover something you are so excited about that you want to share it with your friends. Sign up with us to get informed about innovative technology and products.