It's late-April and you know what that means: start new with spring cleaning!
Spring cleaning isn't just a tradition that guilts you into breaking out the vacuum and scaring away the dust bunnies, it's the opportunity for a fresh start. It gives you a chance to free your physical space and make room for items that you truly want and need.
Get rid of out-of-date, unused and unnecessary things in your place and start new this spring with one-of-a-kind, unique items.
What to Toss
Throwing away trash, worn out clothes, and broken things are no-brainers when it comes to starting new this spring. But some things fall in the grey zone and aren't as easy to toss.
Monica Friel, owner of the blog Chaos to Order and one of the founding members of the Chicago Chapter of the National Association of Professional Organizers (NAPO), points out common household items that we tend to subconsciously store.
Electronics:

Broken

laptops, out-of-date iPods, old printers and other electronic devices that are gathering dust can take up a bunch of space. Clear your house and make some money by selling all old electronics!

Newspapers and Magazines:

You make keep telling yourself you're going to read that one article or finally test out that recipe.  But it it's been over a year and you still haven't cracked open the magazine or article, it's time to throw them in the trash.

Important Documents:

Shred all paid bills, paid credit card statements and any receipts. Pay stubs, bank statements and paid medical bills can be shredded after one year.  Tax-related receipts, cancelled checks, W-2s and tax-deduction records can be shredded after seven years. Save all tax returns, and for more information visit the

Federal Trade Commission

's site.
If you don't feel comfortable tossing out things, donate to a Goodwill, Savers or your local shelter. Get rid of clutter, help someone else in need and get a tax write-off!
What to Keep
Sometimes it's easy to become too gung-ho when we're in a cleaning frenzy and on our way to starting new. But later on, we realize that we've accidentally tossed out things that are necessary or meaningful. Ask yourself these two questions to determine whether you should keep or toss something.
How often do I use this?
If your answer is once a year or you don't even remember, that's a good indicator that you should toss that item. Keep things that you use or enjoy frequently.
Does this add value to my life?
We all have things that hold special memories or make life easier. If something doesn't add any value to your life or hold any significance, it's time to let go of the old and room for the new.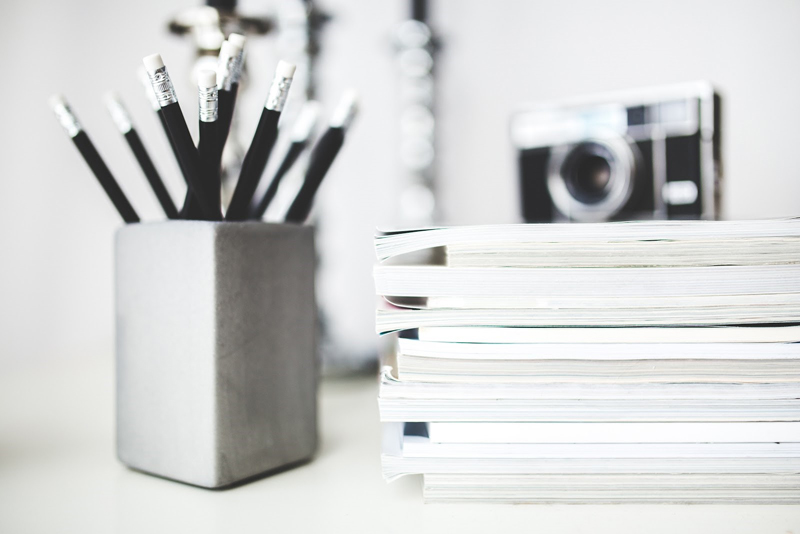 Treat Yourself to Something New
Once you've pitched everything that doesn't add any value to your life or isn't frequently used, you now have space for new things and experiences. Start new this spring with some of these creative products.
Cubist Shelf
Once you've pitched everything that doesn't add any value to your life or isn't frequently used, you now have space for new things and experiences.  Start new this spring with some of these creative products like our Cubist Shelf .  Add a minimalist feel to your home and add more organization to your place at the same time with this multifuncitonal shelf.
Deer Horn Jewelry Holder
Want to buy something pretty but don't have a good excuse? This Deer Horn Jewelry Holder is the perfect gift for yourself! This elegant set of gold-finished deer antlers doubles as a decoration and a jewelry organizer. The bottom plate holds small trinkets while necklaces and rings can hang on the antlers.
Ecocube
These Ecocubes are perfect for you if you're the type of person that wants to fill their life with things that can benefit you and others. These biodegradable planters come ready to grow with organic seeds and soil. Celebrate spring by bringing fresh air and life into the world, and grow herbs, flowers or trees! If you want to find more ways to give back to the environment and other people, read our latest blog post featuring Urban Green Makers!
300ml Essential Oil Diffuser
After spending a good chunk of time on spring cleaning, tossing and re-organizing, treat yourself to a spa-like experience with some aromatherapy. Starting new is a process that also comes from the inside, so add your favorite essential oils to this 300 ml Essential Oil Diffuser and melt away all of your stress.
For more great products to brighten your home after spring cleaning, check out our Spring Collection.
At Apollo Box, we are passionate about fun and unique gifts. We created an innovative AR shopping platform to make shopping even more fun.  We want you to discover something you are so excited about that you want to share it with your friends. Sign up with us to get informed about innovative technology and products.