Escape from your current reality and jump into a world filled with love, rainbows, magic and cuteness overload with unicorn decorations!  Unicorns represent the impossible becoming a reality and remind us that anything can happen.  
At Apollo Box we're team unicorn and have all types of unicorn decorations and unicorn apparel.  We believe that a little bit of unicorn goes a long way and each one of these unicorn decorations adds just the right amount of joy and happiness to your life.  So buy one of these magical unicorn decorations and accessories to live in a wonderland.
These Unicorn Salt and Pepper Shakers are too cute for life! HelloGiggles Editor Emily Popp said she was going to buy them in bulk for future birthday presents and you should too!
Season your food with an extra dash of magic and sparkles with these adorable salt and pepper shakers. They'll look adorable on your kitchen table and be the perfect addition to your unicorn collection.
Light up your house and world with one of these unicorn slippers! These unicorn slippers are so cute you won't be able to stand it. With a rainbow colored mane, friendly eyes, large head and little legs, you're bound to smile every time you look down at your feet. They even light up for fun night shows!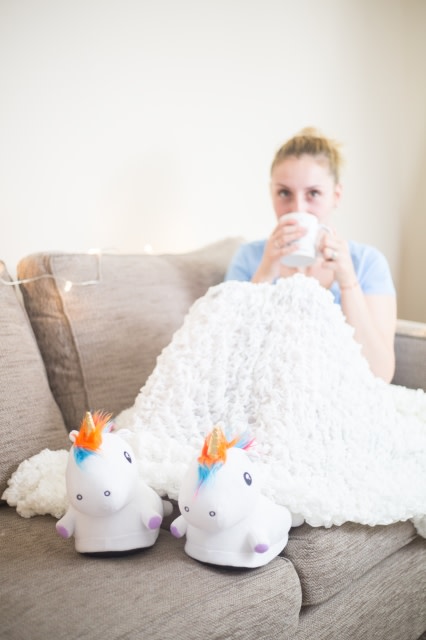 If you want one-of-a-kind, unique unicorn slippers that no one has ever had, then meet Ace & Cup. These lovable unicorn friends are plush, enchanting and also have light up powers. These slippers even come in child sizes so the whole family can experience unicorn magic!
Support their Indiegogo and be one of the first people to own a pair!
Want to add some fairy-tale enchantment into your life? Then our unicorn string lights are the perfect ingredient. These little unicorns are the perfect unicorn  decorations for outside parties and slumber parties, and add the right amount of magic to any bedroom.
No outlet? No problem! These lights run on batteries so they light up in any space.
Are unicorns your spirit animal? Then let your inner spirit animal run free with this rad unicorn onesie.
Get ready for fall and stay warm and cute in these unicorn pajamas. Made of ultra-soft polar fleece, each loose fitting onesie even has pockets. Relax at home and wear this cuddly costume to a cosplay event or Halloween party.
A unicorn's magic comes from within- just like yours! Let your inner glow sparkle and shine all over with this fantastic glitter gel. Perfect for parties or to make an average day a bit brighter.
This unicorn snot is vegan and cruelty free (obviously) and safe for your body, face and hair.  It's the perfect for those days when you want to feel extra dreamy and magical.
Click here for more unicorn decorations and unique products!
At Apollo Box, we are passionate about fun and unique gifts. We created an innovative AR shopping platform to make shopping even more fun.  We want you to discover something you are so excited about that you want to share it with your friends. Sign up with us to get informed about innovative technology and products.