We all know that one person. They're always nominated to lead a project or team because they like to get s$*% done.
The phrases "no", "it's impossible" or "I can't" aren't in their vocabulary. When they're set with a task, they kill it and deliver way beyond the expectations and they don't do it to suck up or make a great impression. It's just in their DNA.
If one of your close friends or family members fits any of the descriptions above, then this holiday season give them a gift that will set them up for success. Scroll down below for holiday office gifts for both men and women that will push them closer to fulfilling their goals.
Office Gifts for Her
If She's a Note Taker
Does your friend prefer to write things down on paper instead of on her laptop, tablet or "Notes" app? Then surprise her this Christmas with this beautiful Cityscapes Memo Pad. This colorful notepad is travel themed and features four signature landmarks of famous cities around the world. It also comes with reusable metal bookmarks. With this chic pad, she can write down and cross off her daily tasks the good ol' fashioned way.
If She's a Glam Girlboss
Make your work wife look and feel like the most organized, baddest chick in the office with these metallic Junction Desk Organizers. This set is ultra-modern, ultra shiny and ultra helpful. It's the most fitting gift to give to any friend who just landed that big promotion or finally launched their business.
If She's Always Cold
This gift is for all the cold blooded people (and we don't say that in a sarcastic way). These adorable and cheery Toast Wireless Handwarmers are the perfect gift for your co worker or friend who is always cold and uncomfortable in the office. With these handwarmers, all they have to do is slip them on, turn them on and then work in heated bliss. Since these hand warmers are wireless, your friend can type with ease and keep her hands warm for up to 6 hours.
If She Enjoys Her "Me Time"
If your hardworking friend needs her "me time" to relax, recharge and refocus, then give her this sleek Glass Aromatherapy Diffuser. This diffuser creates a relaxed and peaceful environment that will make it easier to get stuff done. Made out of hand blown glass, this diffuser also works as a cool mist humidifier, aromatherapy diffuser and ambient night light.
Office Gifts For Him
If He Carries All Types of Gadgets
You tease him and call him inspector gadget. Whenever he goes anywhere, he brings 5-10 different devices. He's a gadget guy and he's only going to carry more stuff. This year surprise him with this handy leather Roll Up Essentials Carrier. With this carrier, he can have his charger, pen, keys and earphones all in one place and save time digging through his bag.
If He's a Classy, Outdoorsy Guy
He really belongs in the outdoors and would have been a lumberjack in a past life time. Yet alas, he works in a cubicle and saves his outdoor adventures for the weekend. This year give him a gift that will speak to his inner woodsman, and present him this unique Handmade Damascus Letter Opener. Made of high performance steel, this handmade letter opener has a tanto style blade and decorative file work. With this gift your friend will be wanting to receive more letters so he can put this baby to work.
If He Has Stuff All Over His Desk
So maybe your friend is a beast at work but "organized" is not a skill he lists on his resume. If he always has pens, papers, business cards and other stuff scattered all over his desk, help him get his life together with this Wooden Tabletop Caddy. Made of natural bamboo, this solid bamboo caddy is so good at keeping desks clutter free – he'll want one for his home too.
If He Loves Fidgets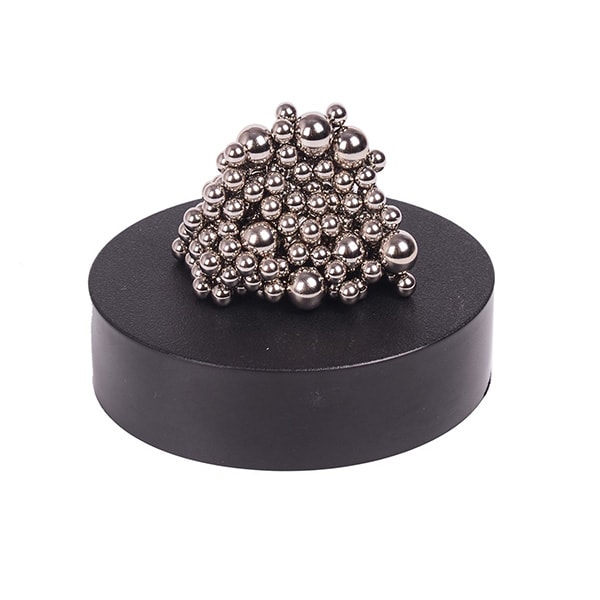 If your co-worker uses fidgets to release his work stress and has a stash of them at the office, help him switch up his stress relief strategies with this Magnetic Sculptures Ball. The Magnetic Stainless Steel Sculpture Balls desktop set is a fun way to reduce stress and give your artistic muscles a stretch. He can pass the time creating unique sculptures, and showcase them on the magnetized base.
Visit our Office Category to shop more holiday office gifts!
Gift for Her               Gift for Him           Gift for Grandparents                 Gift for Mom                      Gift for Dad
Under $15             Under $25         Under $50             Under $100           Over $100
At Apollo Box, we help customers discover, collect, and share the world's most creative products. We hand-pick every product from vendors around the world. Check out our website or join our Facebook discussion for trendy products you can enjoy right now.  Sign up with us to get informed about innovative technology and products.