There is so much beauty in the world, and it is lucky for us to see them via our naked eyes. Being under the sky full of brilliant stars, you will feel your body and mind purified by nature.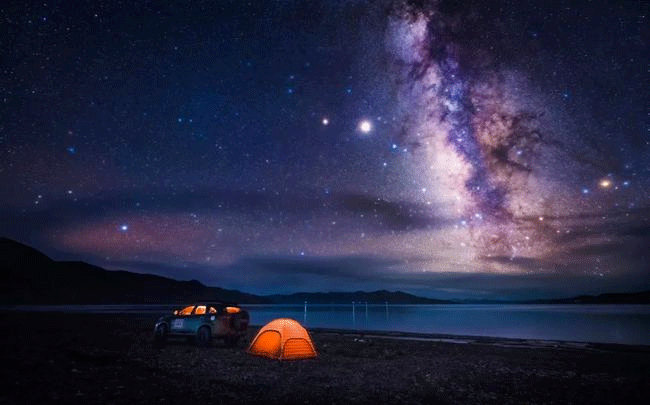 Rolls-Royce has a star roof configuration, so you can look up at the stars and feel nature when sitting in the car.
No one can resist the ultimate romance of the star sky.
However, the sky full of stars can not be seen every day. If you want to enjoy the wonderful night sky every day, you might as well take a look at this astronaut starlight projection lamp. Turn on the light in a second to add a romantic vibe to your home. It can also be used as a decoration when not in use.
Astronaut Starry Sky Projection Lamp
Super realistic dynamic 3D galaxy
Multiple mode switching
Can also be used as an ornament when not in use
At home you can also watch the beautiful starry sky
The principle of the astronaut projection lamp is similar to that of a slide, but the built-in high-quality display device makes the projection effect more high-definition and realistic.
After turning on the light, your room will be gleaming with stars. It makes you feel like you are in a romantic universe where the dreamy and fuzzy nebula and the stars are in reach. How could you not fall in love with this wonderful sky?
There are 8 kinds of light modes that can be adjusted via the remote control. The color of the nebula varies, and each mode shows a different feeling. It can support remote operation within 5 meters, so you can easily switch to your desired vibe.
It supports up to 100 square meters of large-scale projection. Whether it is alone time for one person, a sweet date for two, or happy moments for friends, weekend relaxation, or birthday parties, projection lights can bring you unparalleled visual enjoyment!
Intelligent timing mode, supporting two timing modes: 45-minute or 90-minute. Automatic shutdown, which is easy and convenient.
Turn on the projection lamp before going to bed and put yourself in the romantic starlight, giving yourself a sweet dream!
Cute astronaut design, stylish white, and stable base with moon surface texture, all these details are exquisite and in high quality.
The head of the astronaut can be adjusted at 90° at will, and the arm can be adjusted at 360°.
It can be adjusted freely according to the projection area and direction to meet your different needs.
When not in use, it also can be put on the table as a decoration. Rotate the astronaut's head to different angles, then your monotonous tabletop will become more interesting.
Astronaut Starry Sky Projection Lamp