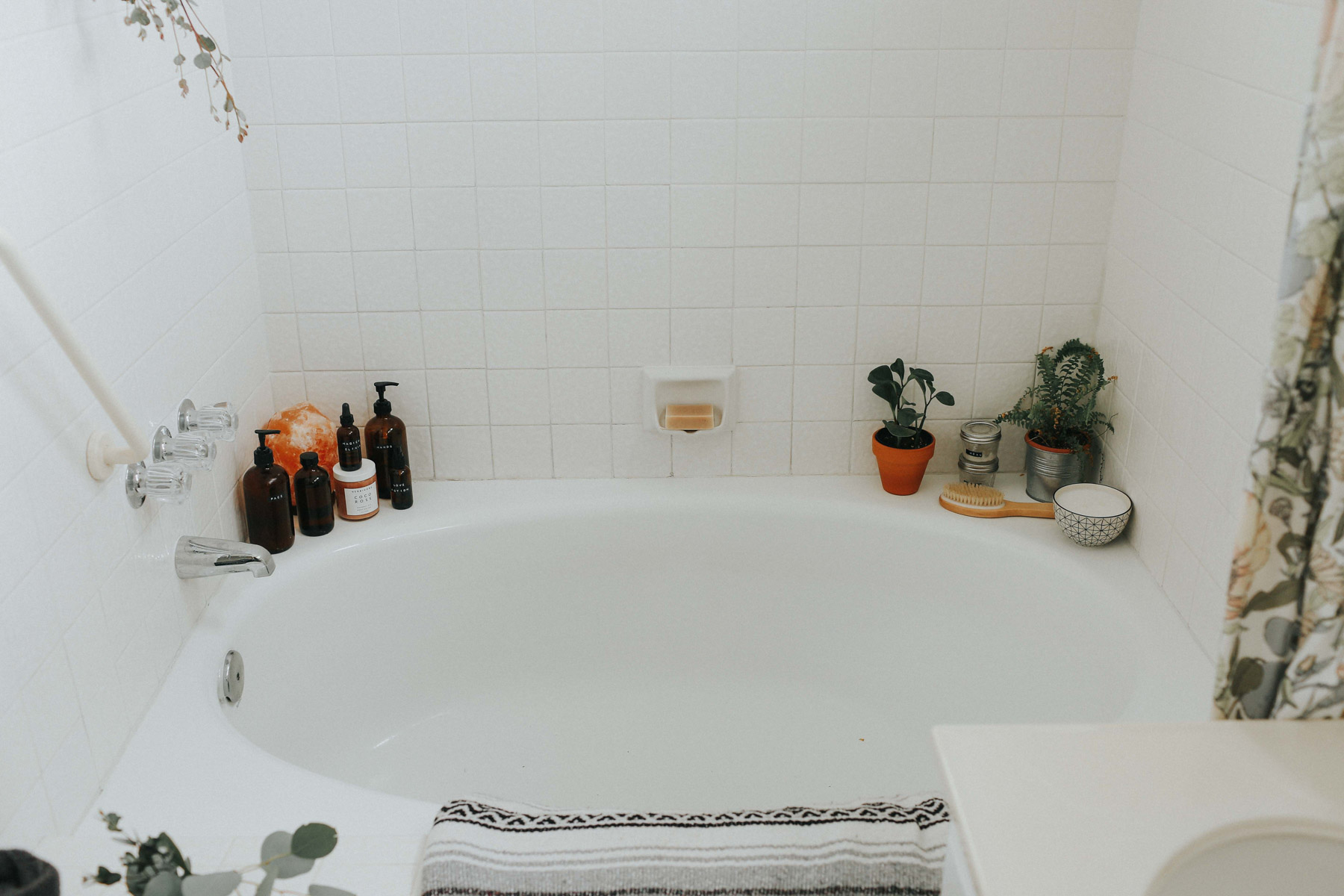 If practicing more self-care is one of your New Year's resolutions, then start filling up your tub.   Next to other self-care rituals such as going to the gym, decluttering your home, establishing a skincare routine or taking care of your plant babies, taking a self-care bath is a  must.
Next to making you feel ultra luxe and glamorous, taking a self-care bath is beneficial to your mental and physical healths. Here are few reasons why:
A Self-Care Bath Will Unplug You From The World
While it totally makes sense to take a quick snap of your current bath situation to show your IG followers, "I am self-care", the odds of of dropping your smartphone in the bubbly abyss are too high for comfort. These odds will most likely make you opt out from scrolling through entertaining tweets, disconnect from the online world and remember what it's like to sit in sweet, undisturbed peace. ~ Zen ~
A Self-Care Bath Physically Calms Your Body
On top of detaching you from social media and giving your mental health a break, taking a self-care bath also gives your muscles a break.  A hot bath relaxes muscles that grow tense in response to the stress you accumulate throughout the day. Hot baths also makes it easier for you to breathe thanks to the combination of warm water and pressure on your chest. This special combo increases your lung capacity and oxygen intake. The last and coolest reason why taking a self-care bath physically calms your body is the fact that as soon as your body comes into contact with warm water, it releases endorphins. We'll take shower endorphins over workout endorphins any day.
Taking a Self-Care Bath Forces You to Take Time for Yourself
Taking a self-care bath isn't something you can get done in 10 minutes. It's a process that takes time and really pushes you to relax and devote time to nothing else but yourself. Some people think that baths aren't their thing, and if you're one of those people we'd like to challenge you on that mindset. Is it the bath itself that you really don't like or do you not feel comfortable taking time for yourself?  
Taking A Self-Care Bath Gives You a Way to Express Yourself with Creativity
While taking a self-care bath, you have the opportunity to set your own mood. Whether that's turning off the light and lighting a bunch of candles, sprinkling dried rose petals and lavender in your tub or creating your own "self-care bath time playlist", the different ways you can get creative during bath time is endless.
Taking a Self-Care Bath Will Inspire You To Clean Your Bathtub!
It's totally ok if you're not always on top of your cleaning to-do list, but hear us out. Cleaning your bathtub / shower will give you so much satisfaction, you'll wonder why you don't do it more often.
Slyvia Plath sums up how wonderful baths are in one sentence:
"There must be quite a few things that a hot bath won't cure, but I don't know many of them."
We're on board with Sylvia, and you should be too! If all this talk of self-care baths has you pumped and ready to jump in the tub, then follow the steps from our "Ultimate Self-Care Bath Guide"! Feel free to save it, print it out and hang it up in your bathroom.
Also make sure to check out some of our favorite self-care bath essentials!
Relaxing Diffusers
Self-Care Candles & Lights
Rejuvenating Skin Care Essentials
Yummy Bath Bombs & Soothing Bath Salts
Want to Shop More Fun Bathleisure Essentials? Then Visit Our Beauty & Health Page!
At Apollo Box, we are passionate about fun and unique gifts. We created an innovative AR shopping platform to make shopping even more fun.  We want you to discover something you are so excited about that you want to share it with your friends. Sign up with us to get informed about innovative technology and products.