The Holidays are prime sweet consuming time. Sprinkle covered cookies, spiced induced sweet breads, rich cakes and silky smooth puddings. These Christmas desserts are just a fraction of the tasty treats that people look forward to all year long.
If you're feeling in a festive, baking mood or need to contribute to an upcoming Christmas party or dinner, then be the hero of the day and bring one of these Easy Christmas Desserts. Each of these easy Christmas desserts recipes can be made by any type of baker. So if this is your first time baking something, don't fret! You can totally do this!
So scroll down to find fun, festive and most importantly easy Christmas dessert recipes!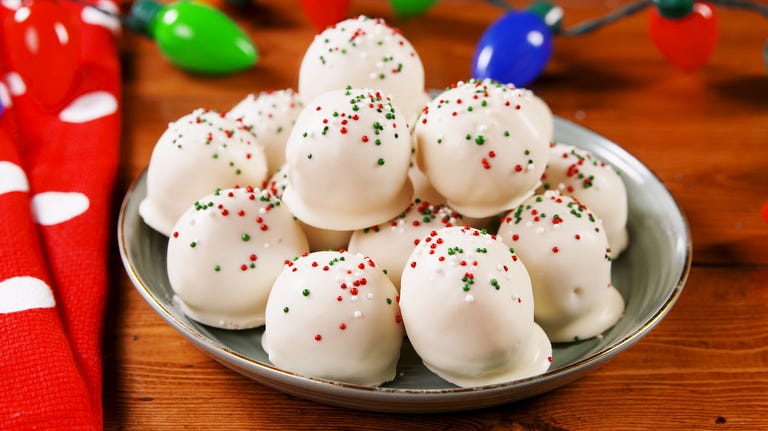 Basically Cake Pops without the stick, these Sugar Cookie Truffles are ridiculously easy to make, filled with enough sugar to satisfy your sweet tooth and crazy cute. The best part about this recipe? Sugar cookies are a key ingredient. So if you have any extra Christmas sugar cookies lying around, now you can put them to use!
Eggnogg in cake form is a glorious creation.  After eating one bite of this flavorful cake, you'll no longer question whether you should have a second serving.  Second servings of this Holiday Eggnog Cake are mandatory for your well-being and Christmas cheer. (Photo via Tatyana's Everyday Food)
If you're looking for an easy Christmas dessert recipe that can be ready to serve in 80 minutes and isn't super sweet, this Orange Glazed Cranberry Bread is your best bet.  Filled with fresh orange zest, bright red cranberries and topped with streusel, this delicious bread is perfect for breakfast or dessert.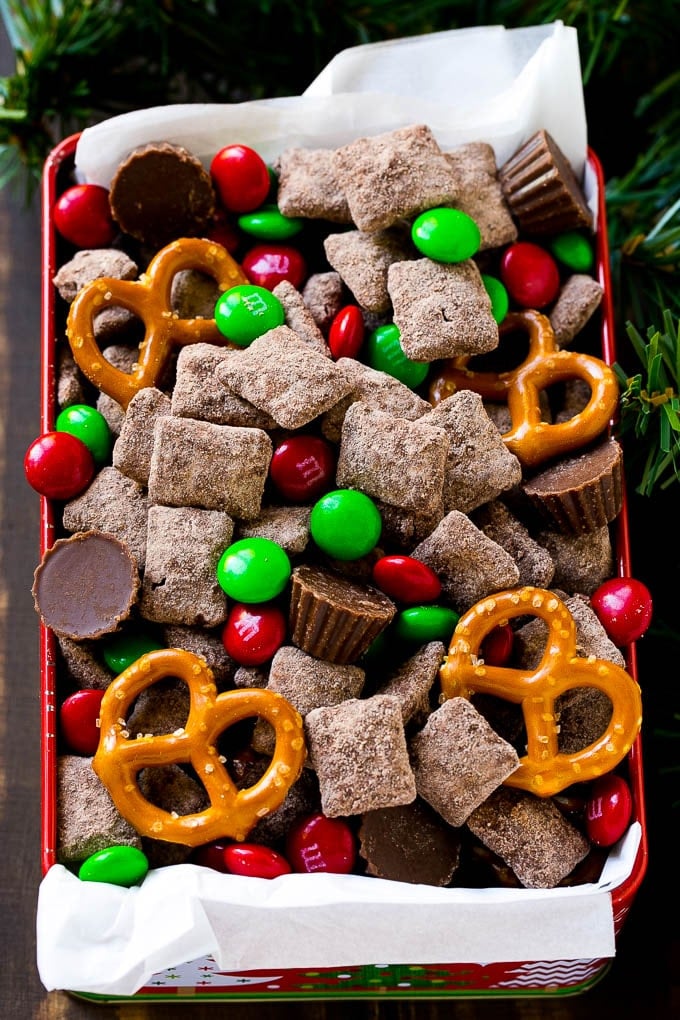 While it might not be the most elegant recipe on our list, don't underestimate this crowd winning easy Christmas dessert.  This Reindeer Chow mix combines savory with sweet, and can be whipped up in 11 minutes! It's an easy holiday snack to that will satisfy your guests at a party or kids at home when you don't feel like making Christmas cookies. (Photo via Dinner At The Zoo)
So cute! Super tiny! So easy to pop in your mouth! Get ready to hear "Oh how cute!" as soon as your guests see these Funfetti Shortbread Bites. While tiny, these shortbread bites are packed with buttery goodness. (Photo via Cooking Classy)
Want to bake something with the kids that's easy and isn't Christmas cookies? Give these Christmas Tree Brownies a try! Made with brownie mix (ain't no shame in the box game!) and colored frosting, these brownies are crazy easy to whip up and super cute. (Photo via One Little Project)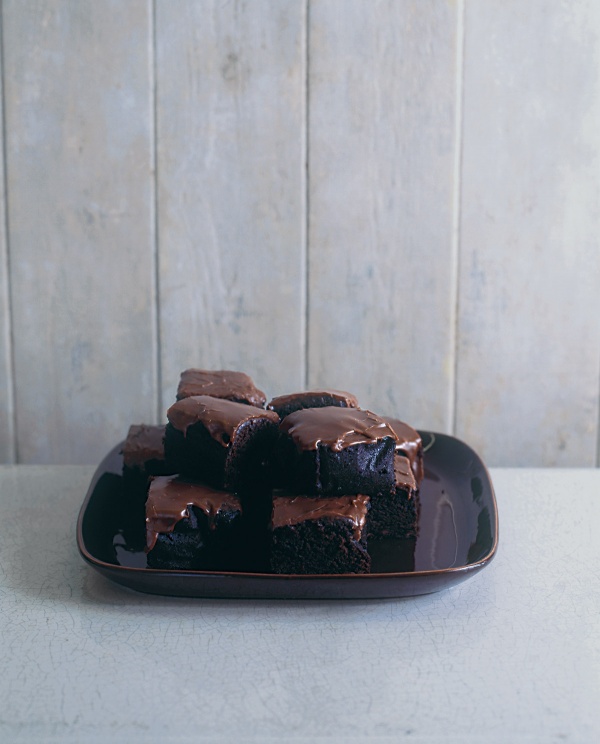 Interesting combination? Definitely. Brilliant combination? Definitely. Chocolate Gingerbread isn't a stable easy Christmas dessert but it should be. The coco in this recipe brings out the gingerbread spice and will give you all the Christmas feels. This is the dessert to make for chocolate lovers. (Photo via Nigella)
Can anyone turn down bread pudding? No, we didn't think so.  Dressed up with apples, cranberries and piked with a rum cream sauce, this Christmas bread pudding will have everyone in a festive mood real quickkk (totally kidding).  Bring this traditional, easy Christmas dessert to any party and prepared yourself to be crowned Star Baker of the night! (Photo via Valerie's Kitchen)
Looking for another light but sweet easy Christmas dessert? Then check out these Chocolate-Dipped Cherry Pistachio Biscottis (try saying that 5 times fast). You'll be munching on these sweet, tart and crunchy cookies all day long. Make them for Christmas morning to dump them in your coffee or pair them with a bowl of vanilla ice cream to create a satisfying dessert. (Photo via Fine Cooking)
Yes we know, you don't know how to pronounce Rugelach and this easy Christmas Dessert does not look easy. But say it with us: roo-ge-lakh. Now hear us out. This traditional Jewish pastry contains cranberries, spices, cream cheese and nuts.  It's a holiday classic that is easy to nail on your first time and will truly impress your guests. (Photo via Smitten Kitchen)
Yay for another easy Christmas dessert that can double as a breakfast pastry! Bake these Christmas Cranberry Scones Christmas morning, pair it with some jam, clotted cream and eat a proper Christmas breakfast.
Did you know that Pecan Pie was the most googled recipe of 2018? This revelation isn't too surprising considering that Pecan Pie is a traditional American dessert that always hits a home run.  This year, make this timeless easy Christmas dessert but add a modern twist with some bourbon and dark chocolate. (Photo via Joy The Baker)
"This fudge is foolproof and so creamy you won't believe it." – Barbara Miller. You heard it from Barb yourself ladies and gentleman.  If you're not the most talented baker or cook, then make this Christmas fudge and surprise everyone. (Photo via Taste of Home)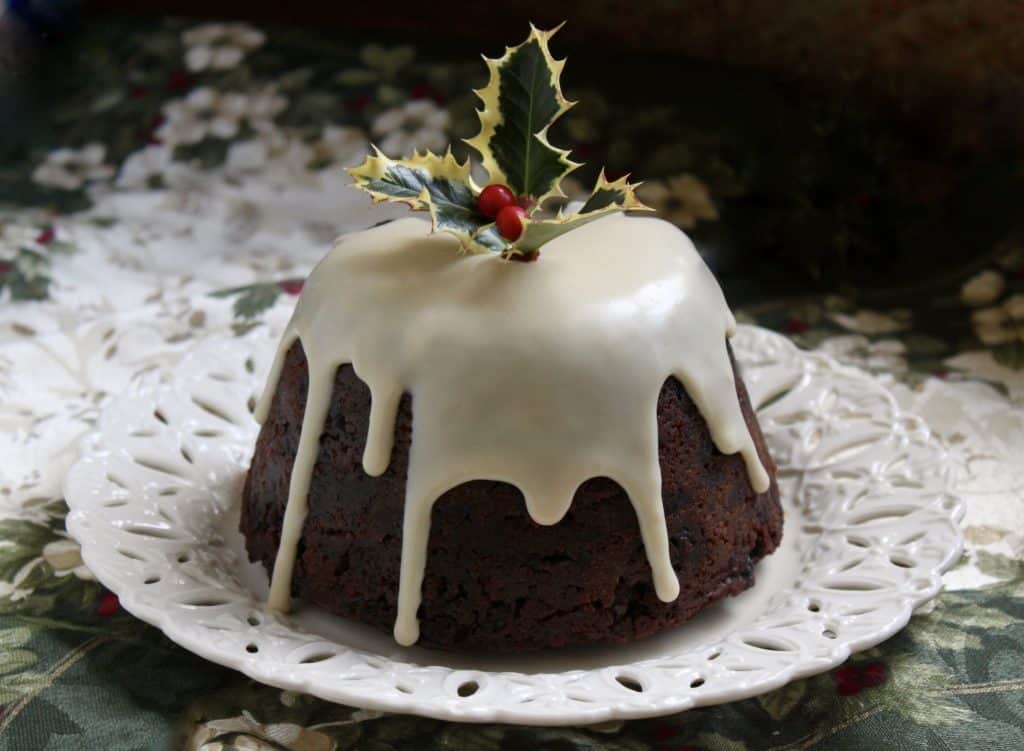 Is there anything more posh than Traditional Christmas Pudding? Get in touch with your British roots and make this picture-perfect, fruit filled dessert.  Now don't be fooled, English pudding is not the same as American pudding. This Traditional Christmas Pudding is basically a super moist mini cake that is doused in brandy. Cheers! (Photo via Christina's Cucina)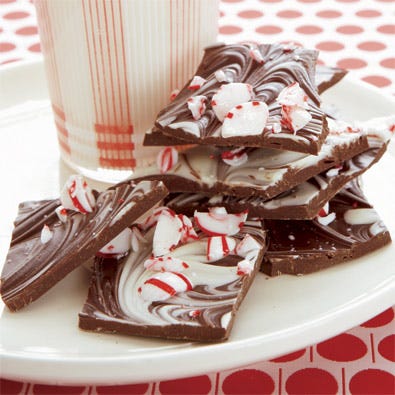 Last but most certainly not the least, is our Simple Holiday Bark.  This peppermint infused chocolate treat contains only three ingredients and 11 minutes of your life to prepare.  This easy Christmas dessert is always a winner, so if you're unsure about how you'll fare with any of the recipes above, then this is the recipe for you. (Photo via Philip Friedman)
Searching for the perfect White Elephant Gift, Secret Santa Gift or Hostess Gift to bring along with your dessert to a Christmas party? Take a look at our Apollo Box Gift Guides!
At Apollo Box, we are passionate about fun and unique gifts. We created an innovative AR shopping platform to make shopping even more fun.  We want you to discover something you are so excited about that you want to share it with your friends. Sign up with us to get informed about innovative technology and products.