A Halloween party has the potential to be the best party of the year.  With costumes, candy, cobwebs, cocktails and more, you can transform your home into an elegant haunted house or the scene of an axe murderer gone wild. Whatever theme you're looking for, we've listed below a lot of creative Halloween party ideas that will make your party the spookiest bash of the year. So take a scroll down and see what Halloween party ideas will inspire your ghoulish spirit!
Have a Dark & Eerie Welcome
Trade in your carved pumpkins and "Boo" signs for an even creepier, cold welcoming.  Decorations like these Baby Doll Head Planters will give an eerie yet chic "hello" to all guests who would dare enter your spookfest.
Make Desserts & Food Festive
This is a given but just to clarify, don't serve regular, everyday food at your Halloween party.  Think outside the box and serve a "Boo Berry Pie" or 'Halloween Jalapeno Popper Mummies". Click here for a list of fall baking recipes that you can easily add a Halloween twist too.
Serve Spooky Drinks
Pair your haunting Halloween food with sinfully delicious drinks.  Dry ice, purple colored cocktails and fancy looking glasses will all come together and create the tastiest and most Instagram-worthy drinks. Click here for a list of Halloween drink recipes that both kids and adults can indulge in.
Have a Halloween Costume Contest
Elaborate costumes are honestly the best part of a Halloween party, so encourage your guests to come dressed in their best with a costume contest.  Have a fun activity prize, like two tickets to a sports game or a gift card to a luxury spa, to really up the ante and see the wildest, most creative costumes. Still looking for your Halloween costume? Click here for 8 easy Halloween costume ideas that cost less than $50.
Incorporate Creepy Lighting
You have to pay extra attention to the Halloween lighting when decorating your home. The way you light the room will set the theme for your Halloween decorations and the mood for the party. A mixture of friendly string lights like this Halloween String Light Set will make parts of your home inviting for children. Fun and cheeky candles like this Creepy Eyeball Candle will incorporate a scary feel.
Add a Creepy Touch to Everyday Household Items
While people are expecting eerie lighting, Halloween themed foods and spooky cocktails, what they aren't expecting is Halloween themed common household items.  So give them the scare of their lives and incorporate items like pillows with a chilling hand imprint and realistic finger soaps.
Hit Your Local Thrift Store or Garage Sales for Antique Decorations
Want to throw an extravagant party but running on a tight budget? Then head to your local thrift store or second hand store to hunt down affordable antique cups, plates, silverware or candlestick holders.  What's great about this move is that you can re-use these goods all year long. Via Woman Getting Married.
Branch Out from the Orange & Black Color Scheme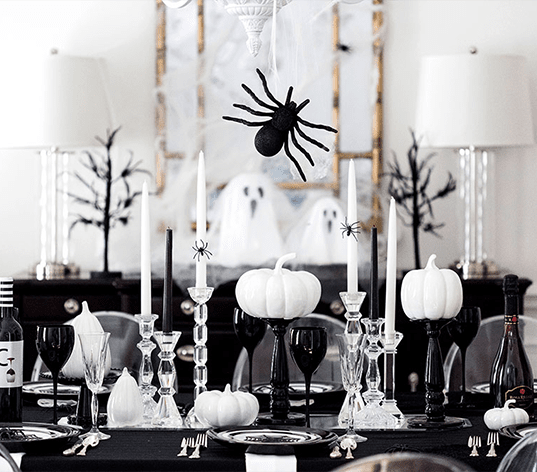 While they are classic colors, switch it up go with a more adventurous Halloween color scheme.  A magenta, deep purple, evergreen, white, the possibilities are endless! Using a non-traditional color will definitely make your party stand out from the rest and impress guests with your creativity. Via Pizzazzerie.
Have Quick & Easy Costume Accessories on Hand for People That Don't Dress Up
There's always that one person that shows up not dressed in a costume. It might be because they didn't have time to put one together, couldn't afford to spend any money or they just didn't want to wear one. Well in this case, be a hospitable host and provide quick & easy Halloween costume accessories like these Skeleton Hair Clips and Cat Ears for regular dressed guests to wear.
Place One of These Cute Phrases In Your Home
Cute and punny phrases are the quickest ways to to make anyone smile, write one of these fun Halloween quotes on a chalkboard, white board or letter board.
Looking for more Halloween costumes, accessories and decorations? Click here!
At Apollo Box, we are passionate about fun and unique gifts. We created an innovative AR shopping platform to make shopping even more fun.  We want you to discover something you are so excited about that you want to share it with your friends. Sign up with us to get informed about innovative technology and products.