WyzeCam is breaking barriers and introducing a concept to the U.S. market that no smart home company has done before: quality smart home products at a ridiculously affordable price.
Before WyzeCam, the average smart home security camera ranges between $100 to $200.  The average home security installation costs $1500.  
Starting on October 24th, Americans across the country can buy WyzeCam, a smart home security camera that has features like 1080p full HD, night vision and 2 way audio, all for $45 at Apollo Box. The right to keep your home and family safe is now available to everyone.
How WyzeCam Began
Co-founder Dave Crosby, 30, never planned to help build WyzeCam.  WyzeCam is a byproduct of Crosby's quest to protect and provide for his family without exceeding his budget.
"The problem is, if you want to get a lot of them [security cameras], they're super expensive," says Crosby, "So you can't really get a ton of them. We're a young family, we're not making a ton of money."
Crosby needed reliable home security smart cameras because of the growing media attention his daughter was receiving.
If you saw Crosby on the street he might look familiar to you.  That's because he's the singing and guitar playing dad of the 5-year-old, adorable YouTube star and singer, Claire Ryann.
With over 719K YouTube subscribers, the heart melting daughter/father duo is getting more and more attention in the media.  Crosby just earned himself a spot on Team Adam on the popular singing show, The Voice, and Claire has made several appearances on The Ellen Show.
Great public attention calls for higher security and Claire's media attention made Crosby more concerned about the family's safety and privacy.
"Here my daughter has this awesome little talent that I want to share with people and she is getting all of these cool opportunities … these awesome amazing life experiences but at the same time it's exposing her and makes me feel super uncomfortable," says Crosby, "So I get really, really interested in home security and how to protect my family."
During Claire's internet explosion, Crosby was in the transition of quitting his current full time job and starting a new company. These two life events placed their family in the same financial position that thousands of U.S families are in. It also placed two major pressures on Crosby. The pressures of keeping his family in a stable financial state and a protected environment.
Finding a quality home security camera that was reasonably priced seemed like an impossible but non-negotiable feat.
"There was no option for a really low-cost camera that worked really well," says Crosby.
Crosby said that he found low-cost smart home security cameras, but these cameras offered "terrible quality."
A place to buy affordable and reliable smart home products was at the forefront of his mind when Crosby and his colleagues were looking at what type of company they wanted to create. It was only a matter of time until Crosby and the team realized that he wasn't the only person with his dilemma.  They then set out to create a company that is devoted to one thing: Creating solid smart home products that's affordable for everyone.
Why WyzeCam
Quality was key and the main focus during the design process.  The WyzeCam team wouldn't settle for anything less.
"Our mission as a company is to make smart tech products available to everyone," says Crosby,  "They're not going to be cheap or low quality.  These are awesome products that will surprise you with how inexpensive they are."
For the past  6 months, the team has been perfecting and working on WyzeCam, ensuring that it would be the best fit for the U.S. market.
Features like smart motion and sound alerts, night vision, two way audio, 8x digital zoom and 1080p Full HD are included in WyzeCam. Crosby and the team want WyzeCam to have features that are similar to those of higher priced security cameras.
"You're not sacrificing quality and you're paying a good price for the camera," says Crosby.
In addition to its extra features, WyzeCam is also easy to use and setup.  Buyers don't have to spend hundreds of dollars on camera installation. Just download the WyzeCam app, create an account, charge your WyzeCam for 20 seconds and finish setting it up on the app.
Crosby believes that WyzeCam's features, affordable price, and easy-to-use design is enough to compete with current smart home security cameras.
"We feel like our product can compete with higher end products but we're not going to charge people for the branding," says Crosby.
Making smart home technology available to the ordinary person is the legacy WyzeCam wants to leave. "Our main mission as a company is that we want really great smart home products to be affordable and available to everyone," Crosby says.  So far, based off the camera and price alone, it looks like WyzeCam is off to a promising start.
Join the affordable smart home technology movement and buy your WyzeCam today.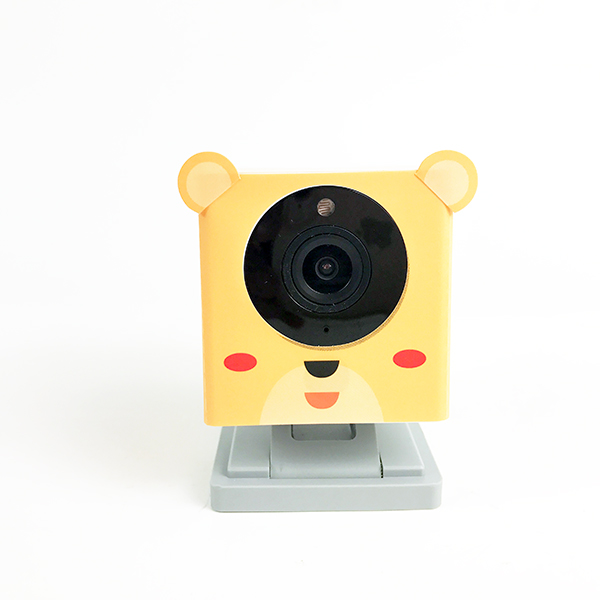 Click here to sign up on the pre-order list and get your WyzeCam shipped out to you starting October 24th.
At Apollo Box, we are passionate about fun and unique gifts. We created an innovative AR shopping platform to make shopping even more fun.  We want you to discover something you are so excited about that you want to share it with your friends. Sign up with us to get informed about innovative technology and products.