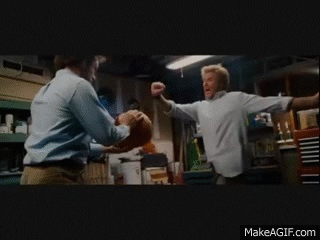 If you're a dude and you're reading this, you know that buying a gift for your bro can be a struggle.  If you're a girl and you're reading this, you also know the struggle of shopping for the men in your life who aren't your dad or boyfriend.  To remove any holiday shopping pains, we decided to make the bro gift guide, the ultimate gift guide to find cool gifts for men.
Men giving other men gifts is no longer a cultural faux pas.  It's 2017, so proudly give awesome gifts to your lifetime bros and wingmen.  If you have friends who are hilarious, always down to go on adventures and loyal, show them how much you appreciate them with these cool gifts for men.
Cool Gifts for Men Who Like Guns
Did you grow up playing airsoft and paintball with your closest bros?  If you have friends who always go to the shooting range and love to hunt in the great outdoors, check out some of our cool gifts for men who like guns.  Any gun enthusiasts will love them.
Cool Gifts for Men Who Like Technology
Got a friend who is your go-to guy whenever your tech gear starts to act up? Give your tech bro a gift (besides the gift of your friendship), that will speak to his nerd side.
Cool Gifts for Men Who Likes a Cold Drink
There's nothing like a night out at the bar with your closest friends.  Having a deep and honest conversation while sharing a drink with your bros is a sacred ritual.  This Christmas buy your bros a cool beer mug, shot glass set or a fun drinking game and create new memories.
Cool Gifts for Men Who Like to BBQ
We all have that one dude in the group who's always cooking  something on the grill and can make a mean steak.  Give this bro a gift that he can use for the summer BBQs and get togethers.  He'll be stoked with any of these BBQ and grilling gifts and you'll be that much closer to eating your favorite burgers.
Still looking for a fitting bro gift or a gift for the men in your family? Click
here
for more
Gifts For Him.
Gift for Her               Gift for Him           Gift for Grandparents                 Gift for Mom                      Gift for Dad
Under $15             Under $25         Under $50             Under $100           Over $100
At Apollo Box, we help customers discover, collect, and share the world's most creative products. We hand-pick every product from vendors around the world. Check out our website or join our Facebook discussion for trendy products you can enjoy right now.  Sign up with us to get informed about innovative technology and products.